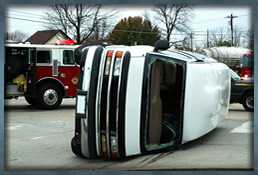 Rollovers
One in every four new vehicles sold in America today is an SUV. Some SUVs, however, have a serious safety problem - an unacceptable tendency to roll over. More than 12,000 people have died in SUV rollovers since they were first introduced in the 1980s. The government largely ignored the problem until the much publicized deaths and injuries related to faulty Firestone tires mounted on Ford Explorers in 2000. Nearly forty times as many people have died in SUV accidents unrelated to tire failure. There is overwhelming evidence that some vehicles have a higher risk of rollover then others. All else equal, vehicles with a high center of gravity and narrow wheel base will roll more often. Rollovers typically involve peak forces that are less than the forces involved in frontal impacts because the forces are distributed over a much longer period of time as the vehicle rolls and decelerates. As a result, manufacturers can protect occupants during rollovers, but many fail to provide even minimal protections because of increase costs.
---
SUVs and Other Vehicles At Issue
The following is a non-exclusive list of vehicles that the Steinberg Law Firm is investigating:
Chevrolet Blazer, Chevrolet Tahoe, Geo Tracker, Ford Expedition, Ford Explorer, Ford F150, Ford Bronco II, Ford Ranger, GMC Jimmy, GMC Yukon, Honda Passport, Jeep Cherokee, Jeep Grand Cherokee, Jeep Liberty, Kia Sportage, Lincoln Navigator, Mazda B-Series Excab, Mercury Mountaineer, Mitsubishi Montero, Nissan Pathfinder, Nissan Xterra, Oldsmobile Bravada, Suzuki Samurai, Toyota Tacoma, and Toyota 4Runner.
If you or your loved one has been involved in a rollover accident in one the following vehicles, please call or e-mail for a free legal consultation.
---
15 Passenger Vans
Fifteen-passenger vans are widely used by community organizations, schools and vanpools. The NHTSA has found that the risk of a rollover crash is greatly increased when 10 or more people ride in 15 passenger vans. The increased risk occurs because the passenger weight raises the van's center of gravity and causes it to shift rearward. As a result, the van has less resistance to rollover and handles differently making it more difficult to control in an emergency situation. Placing any load on the roof also raises the center and increases the likelihood of a rollover. Fifteen-passenger van models under investigation by the Steinberg Law Firm include:
The Chevrolet Express G3500 Extended, Ford Econoline Wagon 3500 Maxi, Dodge Ram Wagon 3500, and GMC Savana G3500 Extended.
Please e-mail us for further information.
---
Legal Matters
The key to successful presentation of a rollover case usually depends on careful screening and analysis of the likely factual and legal defenses that will be raised by the defendant. Most often, defense attorneys attempt to place blame on the driver for losing control of the vehicle and causing the accident. In response, plaintiffs attorneys argue that an automobile manufacturer should be liable for a design that causes or enhances injury, even though it did not cause the accident, the so called "crashworthiness" doctrine. The doctrine has been broadly recognized and applied in automobile design cases and courts have held that manufacturers should take reasonable steps in design to minimize the injury-producing effect of impacts. Rollover cases typically involve a stability design defect that causes the rollover, as well as crashworthiness defects that cause or enhance injury. The most common crashworthiness defects include the following:
Rollover defects, restraint system defects, fuel system defects, seat design defects, roof crush defects, side impact protection defects, door latch defects, and glass defects.
---
Legal Help
If you or someone you love has been injured as a result of a rollover accident, you may be entitled to compensation. Please e-mail Andrew E. Steinberg*, or call
713-529-0025, for a no cost and no obligation consultation. Cases are handled on a nationwide basis through association with other law firms.
*Not Certified by the Texas Board of Legal Specialization.