The Federal Employees Liability Act
In 1906, Congress first enacted what has become known as the Federal Employers' Liability Act (FELA). The name is misleading as the act only applies to employees of railroad companies engaged in interstate commerce who are injured on the job and not to employees of the federal government. The FELA came about because tens of thousands of railroad workers were killed or maimed annually throughout the rapid expansion of the country during the late 1800's. President Theodore Roosevelt was a staunch and early champion of FELA which he viewed as necessary to hold the railroad industry accountable for the cost of "the legs, eyes, arms, and lives which it consumed in its operations." Few workers or their families received any compensation for the injuries they sustained prior to the enactment of the FELA.
The FELA created a system whereby injured workers would receive legal compensation for their injuries. It provides a uniform liability standard for working conditions and employee safety on the job. The FELA requires railroad companies to provide employees with a reasonable safe workplace (equipment, tools, safety devices, etc.) and ensure employees are properly trained, equipped and supervised. Railroads have a duty to inspect the work environment to ensure it is free of hazards and to provide employees with adequate help and assistance. They must also make sure safety rules and regulations are enforced and take reasonable measures to keep employees safe from crimes and intentional acts by other employees and third parties.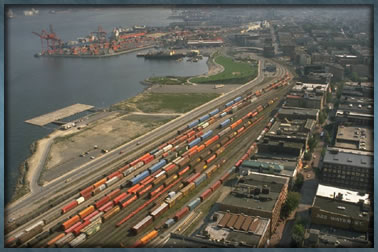 Prior to the FELA, an injured worker could be denied compensation if he was contributorily negligent, e.g., a worker could be denied any compensation if he was 1% at fault even if the railroad company was 99% at fault for the accident. The FELA replaced this system with the doctrine of comparative fault wherein a workers damages is reduced by his percentage fault only. For example, if a jury awards a railroad worker $1,000,000 for his injuries after finding the worker 10% at fault and the railroad company 90% at fault, the worker will recover $900,000. The FELA also abolished the defenses known as "the fellow servant doctrine" and "assumption of the risk". These doctrines were used by railroad companies to escape liability for injuries to their employees.

---
Negligence under the FELA
The burden of proof in a FELA claim is known as a "featherweight" burden, it is less than the burden in an ordinary negligence claim. A FELA plaintiff need only to show that the railroad was somehow negligent, and that such negligence, no matter how small in its relation to the injuries suffered, played some role in causing the plaintiff's injuries. Railroads may also be held strictly liable for violating federal standards pertaining to workplace safety, e.g., Occupational Safety and Health Administration (OSHA) regulations, the Boiler Inspection Act, the Safety Appliance Act, etc. The worker must only show that the law in question was violated and that he was injured as a result.
---
Recoverable Damages
The FELA allows for recovery of the following damages upon a finding of negligence:
past and future lost wages, including loss of benefits such as health and dental insurance
past and future medical expenses (unless already paid or covered by insurance provided by the railroad)
past and future pain, suffering and mental distress
In event of a railroad worker is killed, their spouse and children may be entitled to receive compensation. This may include the amount of money that the deceased worker would have contributed to the family during his life. It also includes the value of aid, comfort and counseling to minor children.
---
Major Railroads in United States
Major U.S. railroads include:
Union Pacific
Burlington Northern Santa Fe
CSX Transportation
Norfolk Southern
---
Consulting A Lawyer on Legal Issues
The Steinberg Law Firm recommends that you contact experienced legal counsel as soon as possible after an accident. Involving legal counsel early can help preserve the evidence that important to your claim and help ensure that you receive proper compensation. Please call or e-mail us for a free legal consultation if you or a loved one has been injured or killed while working for a railroad company. You will not be charged any fee for the consultation and, if we take your case, you will not be charged a fee unless we win your case.
Please E-Mail Andrew E. Steinberg* at: andrewsteinberg@lawyer.com, or call
713-529-0025, for a free, confidential consultation.
*Not Certified by the Texas Board of Legal Specialization.
Other lawyers likely to be associated with the handling of these claims.